Join us in worship!
We'd love to see you in person, but if you can't make it, join us online!
FAQ Indoors
Where are you located?
---
The church campus is located in Manchaca, where Menchaca Road meets 1626. The address is 1011 FM 1626, Manchaca, TX 78652. Depending upon the service you are attending, you will want to park in the appropriate parking lot. There is a parking lot on the East side (accessed via Deane Drive), which is used for the 8:30am service. The 11:00am service will use West side parking lot (accessed via Lowden Lane).
---
What time are the services?
---
Service times are 8:30am & 11am. The 8:30am service is a traditional service in the sanctuary. The 11am service is a contemporary service in the Family Life Center.
---
How are you keeping safe during Covid-19?
---
Read our reopening guidelines and watch the video below to see how we are ensuring the safety of our church family.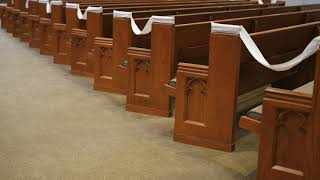 ---
Is there something for my kids?
---
At Manchaca UMC, we love kids! We encourage families to bring children to worship. We prioritize the safety of our children and teachers, and at this time there is no childcare or Sunday School available. Children stay with their parents. We do offer a Children's Sermon and Sunday school online. Learn more on our Children's Ministry page. However, no one is bothered by kid-noises. In fact, we love it when children learn through observation and worship alongside us.
---
---
FAQ Online
Is the service really free?
---
Yes! The service is 100% free and there's never any obligation to sign or move forward with one of our recommendations. Interview as many agents as you'd like until you find the perfect match. When you sell with Brima, you'll not pay anything when your home actually sells. There is no idden fees.
---
What do you mean by "any condition"? What if my house need extensive repairs?
---
We will buy your house as-is, period! You don't need to do any more repairs! Whether your house needs minor cosmetics or is a tear down, we'll buy it in any condition.
---
How do you determine the offer amount
---
We offer the maximum amount possible, our offers are very competitive. If our offers weren't competitive, we wouldn't have purchased thousands of houses! There is no magic percentage we use, every house is unique. Our Real Estate Consultants take into consideration the age, condition, size, features and location of the home much like an appraiser would. We factor in the costs to repair the house, what other homes in the area are selling for and how long it is taking to sell those homes. These and several other factors are researched to determine a fair offer.
---
Am I obligated to use your services once I complete your form?
---
No! You have no obligation at all if you submit an information form and receive an offer to buy your house. You are under no obligation at all. All we ask for is the opportunity to make an offer for your house, you're in the driver's seat as to whether you accept the offer or not. You are in complete control. You are only obligated to our service if you have entered into a purchase agreement with us, as with any other real estate transaction.
---
How Soon will i close after accepting the offer?
---
You will work with your dedicated advisor to determine the closing date and other conditions, but you will have considerable flexibility to pick a date that works for you. In general, you can close in as little as seven or as many as 90 days after the sale contract is signed.
---
How soon do I Have to move after closing
---
We offer a Late Checkout program that enables you to close your home sale, receive your proceeds, and temporarily rent back your home from us for up to 60 days.
---
How We Can Help
---
We specialize in buying homes from sellers in a variety of different situations. Below are some of the most common situations that we encounter. We use our real estate and financial experience to find the best solution for every homeowner.
---
In Need of Repairs
---
Your house is a fixer-upper or in need of major repairs and you can't afford or just don't want to pay for repairs yourself.
---
Relocation
---
A new dream job popped up across the country and you need to sell your home to relocate.
---
Inheritance / Probate
---
You and the beneficiaries are looking to move on and sell an inherited property.
---
Foreclosure
---
If you are behind on payments, we can work with you to stop financial strain and prevent foreclosure.
---
Vacant House
---
Vacant homes can be a lot of work and a source of stress. Rather than let your property sit empty, you can sell the property and have some money in your pocket.
---
Divorce
---
A home is a difficult asset to deal with during divorce. Since you have no control how long it will take to sell, you risk holding up the completion of the divorce process.
---
---
LET US KNOW HOW YOU ARE CHOOSING
TO EXPERIENCE CHURCH THIS SUNDAY!​
WE CAN'T WAIT TO MEET YOU!
My family and I felt welcome the first time we walked through the church doors! These real people inspire me through authentic love and friendship.
Love this church! Great activities for kids, welcoming congregation, and of course, Jesus.
All of the sermons and Bible Studies are valuable no matter where you are on your spiritual journey.
Watch a service by our pastors to get a feel of what it will be like when you attend.
(8:30am traditional on the left, 11am contemporary on the right)